Marlboro Nissan Electric Vehicles
Nissan Goes Electric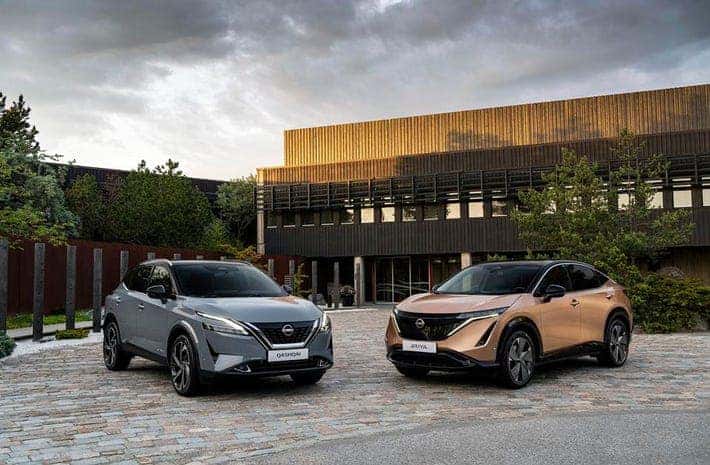 Nissan is on the cutting edge technology of creating an electric ecosystem that will allow customers to use their EV for far more than just driving. Nissan's Electric Vehicles will be able to store energy to use as a power source for your home or building to conserve on emissions, as well as, overall costs!

Electric Vehicles produce zero tailpipe emissions and produce far less greenhouse/harmful air emissions.
Because EV's do not have an internal combustion engine, there are no moving parts to constantly service, so maintenance costs are significantly decreased.
---

What is CHAdeMO?
CHAdeMO is an abbreviation for "Charge de Move" meaning a charge for moving! CHAdeMO is a rapid charging system for electric vehicles. The more capacity the charger can supply, the faster the vehicle will be charged. Our fast charging DC charger supplies a minimum of 50kW of power and up to 350kW of Direct current to charge the battery of your vehicle.
What is CCS?
CCS stands for Combined Charging System. CCS is also a rapid charging system for electric vehicles. The CCS charger can supply a minimum power of 25Kw up to 350kW of power. "The CCS connector uses some connections of the Type 2 interface and adds two additional DC power lines which are capable of running at higher voltages compared to the standard connector."


Marlboro Nissan Is your Electric Vehicle Charging destination!
Whether you live near Brockton, or Wellesley MA, or even if you're traveling up north to Concord, NH, our electric vehicle charging station is available 24/7. Stop by any time, and get charged up!
---

Check Out Nissan's Electric Vehicles!