Refreshed 2020 Nissan Titan Preview in Marlborough, MA

2020 Nissan Titan shown above with optional equipment.
At Marlboro Nissan, we are eagerly awaiting the arrival of the 2020 Nissan Titan and we want to share our excitement with you. Previous iterations of this pickup offered a commanding presence on the road, and the revitalized 2020 model is even tougher with more style than ever before. Pay us a visit as soon as this beast arrives on the lot for a closer look and a test drive.
Performance
Once you climb into the cab of the 2020 Titan, you will be in control of the Nissan Endurance® 5.6L V8 engine which offers every bit of its 400 horsepower and 413 lb.-ft. of torque to help you dominate I-290. Whereas the previous Titan employed a 7-speed transmission, the new model pairs you with a 9-speed automatic transmission, granting faster acceleration and responsive handling. You'll also be able to choose between 4x2 and 4x4 configurations depending on how you plan to use your truck. Hill Start Assist, Hill Descent Control, and Brake Limited-Slip Differential all work together to emphasize off-road capabilities on snow, sand, water, or gravel. This workhorse can handle anything that comes its way.
Technology
The 8-inch center screen is your main window to the many advanced tech features included in the 2020 Nissan Titan. You'll never be far from music, apps, and navigation assistance because Apple CarPlay® and Android Auto™ come standard, and if you need to answer a phone call, your hands will remain safely on the wheel when you use one of hundreds of voice commands1. Nissan Intelligent Mobility is also working to keep you protected behind the wheel—you'll find Nissan Safety Shield 360 included. Who wouldn't love a suite of features designed with you in mind? With everything from Automatic Emergency Braking with Pedestrian Detection2, to Blind Spot Warning3, piloting your capable pickup will feel like you are zipping along in a tiny subcompact. Don't hesitate to contact us at any time with questions!
Exterior
If you're not yet feeling the full force of the 2020 Titan's poise and readiness, you will after you take in the updated exterior and its focus on concrete construction and imperious presence. Make your initial impact on other drivers with the addition of three colors, Red Alert, Baja Storm, and Cardinal Red Metallic4. These hues will gleam during the day, but work doesn't stop just because the sun goes down. The truck bed features four new lighting features for immersive illumination in any light level. As you approach oncoming traffic, make sure to advertise your own personality with one of three available grille options. Other improved pieces include a streamlined front bumper, LED fog lights with a wider range of radiance, and a selection of wheel designs to boldly announce your arrival onto any scene.
We hope the refreshed 2020 Nissan Titan preview in Marlborough, MA, has raised your curiosity level. Keep an eye on Marlboro Nissan for this notable truck to appear in the near future. We are located at 740 Boston Post Road East in Marlborough, MA.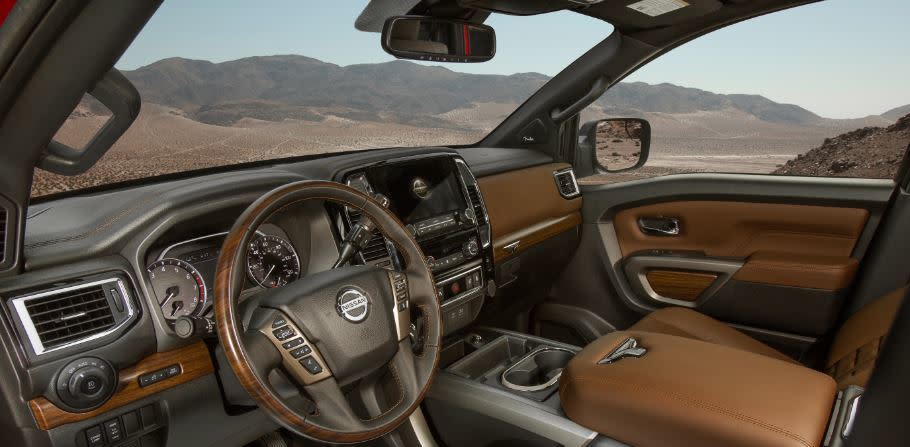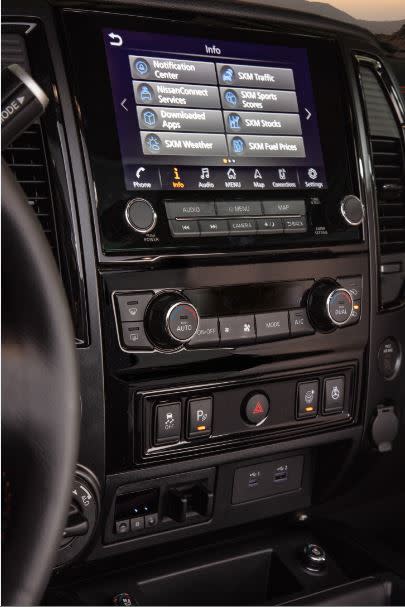 Testimonials
GOOGLE
3-9-2020
Athletic Based Traning Milford, MA
GOOGLE
3-5-2020
GOOGLE
3-4-2020
GOOGLE
3-3-2020
GOOGLE
3-1-2020
GOOGLE
2-29-2020
GOOGLE
2-28-2020
GOOGLE
2-28-2020
CARGURUS
2-22-2020
"Best car dealer I have ever worked with"
DEALERRATER
2-21-2020
GOOGLE
2-21-2020
CARGURUS
2-20-2020
GOOGLE
2-17-2020
GOOGLE
2-17-2020
GOOGLE
2-16-2020
GOOGLE
2-14-2020
GOOGLE
2-14-2020
GOOGLE
2-11-2020
GOOGLE
2-10-2020
GOOGLE
2-8-2020
GOOGLE
2-8-2020
GOOGLE
2-7-2020
GOOGLE
2-3-2020
GOOGLE
1-29-2020
GOOGLE
1-23-2020
GOOGLE
1-23-2020
GOOGLE
1-21-2020
GOOGLE
1-21-2020
GOOGLE
1-20-2020
GOOGLE
1-19-2020
Read More
1 If equipped, your vehicle may include NissanConnect connected features and services such as Emergency Call, Automatic Collision Notification, Wi-Fi, Remote Services, Navigation, Bluetooth and more. Compatible connected device may be required. Subject to GPS and wireless network availability and connection, and system/technology limitations. Terms and conditions of Subscriber Agreement apply. For complete information about your NissanConnect features and services, please consult your vehicle's NissanConnect Owner's Manual at https://owners.nissanusa.com/nowners/navigation/manualsGuide. For more information , please visit https://www.nissanusa.com/connect/important-information.
2 Feature availability is dependent on vehicle model, trim level, packaging and options. Compatible connected device may be required and feature availability may be dependent on device's capability. Refer to connected device's owner's manual for details. Late availability for some features. Driving is serious business and requires your full attention. Only use features and connected devices when safe and legal to do so. Some features, including automatic crash notification and SOS, are dependent upon the telematics device being in operative condition, its ability to connect to a wireless network, compatible wireless network availability, navigation map data and GPS satellite signal receptions, the absence of which can limit or prevent the ability to reach Customer Care or receive support. GPS mapping may not be detailed in all areas or reflect current road status. Never program GPS while driving. Only use Remote Engine Start and Remote Horn features in accordance with any laws, rules or ordinances in effect in your vehicle's location. Some services and features are provided by independent companies not within Nissan's control. Should service provider terminate or restrict service or features, service or features may be suspended or terminated without notice or with no liability to Nissan or its partners or agents. Services and features may require compatible cellular network provided by independent companies not within Nissan or its partners' or agents' control. Cellular network signal strength may vary and may not be available in all areas or at all times. Services and features may not function if cellular network is unavailable, restricted, or terminated. Nissan and its partners or agents are not responsible for associated costs or other third party changes that may be required for continued operation due to cellular network unavailability, restriction, or termination (including equipment replacements/upgrades, if available, or roaming charges on alternative networks). Technology is evolving, and changes by independent companies are not within Nissan's or its partners' or agents' control. Enrollment, owner consent, personal identification number (PIN), and subscription agreement may be required to receive full suite of features and services. Trial periods (if applicable) begin on the date of vehicle purchase or lease of a new Nissan. Trial periods may be subject to change at any time and may be subject to early termination without notice. Required subscriptions may be sold separately for each available feature or service after trial period ends, and may continue until you call service provider to cancel. Installation costs, one-time activation fee, other fees and taxes may apply. Fees and programming subject to change. Feature may be subject to age restrictions in some areas. Subscriptions governed by service provider's subscription agreement, terms and conditions and privacy statements available at service provider's website. Text rates or data usage may apply. The Nissan names, logos and slogans are trademarks owned by or licensed to Nissan Motor Co. Ltd. or its North American subsidiaries. Other trademarks and trade names are those of their respective owners. For important safety information, system limitations, and additional operating and feature information, see dealer, Owner's Manual, or NissanUSA.com/connect/important-information. Terms and conditions of Subscriber Agreement apply. NissanConnect EV features are provided by Nissan North America. Sirius XM Connected Vehicle Services Inc. ("Sirius XM") partners with Nissan North America to provide NissanConnect Services powered by SiriusXM. All stated terms, disclosures and limitations of liability associated with connected vehicle services extend to Sirius XM and its affiliate, Sirius XM Radio Inc. SiriusXM is a registered trademark of Sirius XM Radio Inc.
3 Blind Spot Warning cannot prevent collisions and may not detect every object or warn in all situations. Driver should always turn and look before changing lanes. See Owner's Manual for safety information.
4 Extra cost option.